No doubt, wrinkles, acne scars, and stretch marks can make us feel self-conscious. You may have tried many over-the-counter skincare products and noticed they are not always sufficient to restore your skin. Don't be discouraged. Microneedling might be just what you need.

So what's Microneedling? Microneedling is a skin rejuvenation procedure involving puncturing the skin with a device (derma roller) with very tiny sterile needles. What!! Needles?? Have no fear, the process is essentially non-invasive, and it comes with a slew of skin-boosting advantages.

After seeing the before and after photos, there's no doubt about the efficacy of the treatment. So here's the lowdown on how micro needling can benefit your skin.
How does Microneedling work?
Microneedling (also called Collagen induction therapy) helps revitalize your skin by stimulating collagen production, decreasing the appearance of wrinkles and fine lines, and enhancing the general texture of your skin. You might be skeptical that intentionally pricking your skin will have all these benefits. That is, however, how amazingly Microneedling works. It employs your body's inherent healing powers to solve various skin problems.
What are the benefits of Microneedling?
Stimulates collagen production
Collagen keeps your skin firm and supple. Sadly, as we get older, the production of this youth-promoting protein declines, which leads to the formation of lines and wrinkles. Interestingly, these microscopic tears on your skin from the procedure activate your skin's self-healing mechanism, including increasing collagen production.
Reduces the appearance of wrinkles and lines
Nobody desires to appear older than they really are. However, early aging, manifested as fine lines and wrinkles, does just that. Microneedling increases collagen and elastin production, which improves firmness and smooths out fine lines and wrinkles, making them less noticeable.
Enhances skin tone
We love sunshine. However, too much sun exposure can create hyperpigmentation, or sunspots, while speeding up the breakdown of collagen. Microneedling helps overcome hyperpigmentation while increasing cell turnover for a more even complexion.
Heals scars
After winning the battle against acne, the remaining scars can have a long-term impact on self-esteem and confidence. Microneedling, on the other hand, could be the answer you've been looking for. It stimulates your skin's natural repair process, allowing it to fill in recessed acne scars. The result is smooth, glowing skin.
What Does It Feel Like?
By now, you are probably thinking, "Well, no pain, no gain." But then again, it might amaze you to know that Microneedling does not hurt. After cleansing, the esthetician applies a numbing cream to your skin to ensure you're comfortable during the procedure. As a result, all you'll feel may be pressure and a little friction as the rolling tool travels across your skin. Next is the application of a soothing serum and a hydrating face mask. I can assure you that this part feels absolutely refreshing. The procedure generally takes less than an hour. After your session, you may have some swelling and redness, but no downtime is required; you can continue your normal activities right away.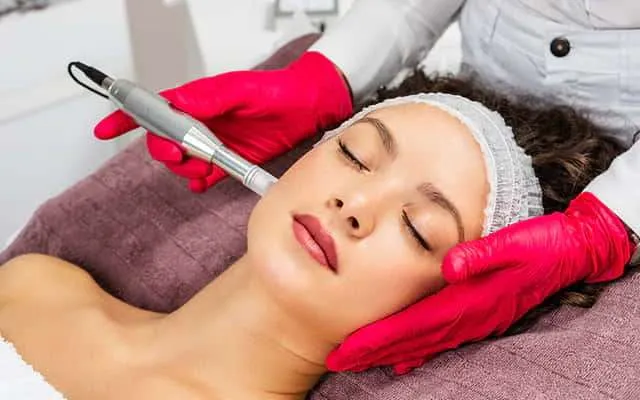 How long will the result last?
The awesome effect of Microneedling on your skin will last three to five months. After that, you may choose to have follow-up treatments bi-monthly for constantly youthful glowing skin. Taking care of your skin with a diligent at-home beauty routine can help you maintain your results. Avoiding excessive sun exposure, whether with sunscreen or protective clothing, can help too.
Where can I go for the procedure?
Nothing beats the dramatic effects of Microneedling on your skin when a certified esthetician at a medspa performs the procedure. Professional devices reach a deeper layer of skin for best results. What's more, you can hardly replicate the after-care at home.

In comparison, the needles on-at-home devices are significantly shorter and don't enter the skin as deeply. So while they're safe to use, you won't receive the same benefits as going to an expert beautician.

Kindly note that Microneedling in the hands of an untrained practitioner might not only produce substandard results but potentially injure your skin.

At Rejuvenate Skincare and Laser, our highly qualified estheticians and registered nurses will work with you to achieve healthier, more youthful-looking skin. We offer a wide range of medical and non-medical treatments in a safe and friendly environment to help our patients look and feel their best. Schedule an appointment with us to learn more about the benefits of Microneedling for your skin.